what our guests are saying about Tigh Beag ...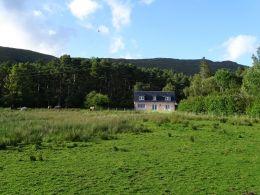 "Thank you for providing everything as listed on your description, the house had everything we needed during our stay. The house was spotless and to find milk and bread on our arrival was brilliant as we had forgotten to pick some up on the way there. in the evenings it was blissfully quiet, we all slept great in the very comfortable beds. A beautiful place with one of the best views we've had from a holiday house. We were privileged enough to see white tailed sea eagles on two occasions! Had lovely walks in Glen Nevis and also around the west coast. Nothing to fault at all, would stay here again sometime hopefully in the near future." September 2016
"The house is absolutely lovely and typically british! We enjoyed staying there because of all the space in it. Of course the house was perfectly clean and everything is provided in it. Perfect if you're looking for a quiet stay in Scottland. The check in is easy and well explained, it may be better to arrive during the day than at night to see the house! Definitely recommended!" February 2017
"My friends and I stayed here for two nights and we wish we had stayed for longer. The house exceeded our expectations, was beautifully kept and in an excellently secluded location. The rooms are very spacious and we all appreciated having 4 bathrooms at hand during our stay. Waking up in the morning and looking out of the window at the stunning view was enough to want to come back. We all enjoyed our stay and would definitely consider returning in the future.
Your house is absolutely stunning. My friends and I loved everything about our stay. The furniture was all very comfortable which is hard to find in rented accommodation. The entire place was immaculate and if it wasn't unavailable for the following days we would have stayed longer. The only thing I can fault is the strength of the wifi and low speed of the internet. Thank you for hosting us. We will definitely consider returning in the future." March 2017
"We stayed in Tigh Beag for a couple of nights for my mum's birthday. We absolutely loved the cottage, the pictures do not do it justice! The view was excellent and it was extremely well equipped. The beds were really comfortable and the Conaglen staff were very friendly and helpful during our stay. I would highly recommend this property and we hope you return again for longer!" March 2017
"The home is amazing!! The views are incredible and breathtaking. The house came with a book full of recommendations about the area and about the house, which was super helpful. The home itself is exquisite and very cozy.
The home was amazing to stay in!! The views were incredible and thank you so much for having milk and some bread there for us on arrival! Also thank you for having someone check in on us to make sure everything was going smoothly. You have a lovely home, thank you for sharing it with us!!" March 2017
"Some friends and I stayed here for the Easter weekend and it was great! The views from the house and surrounding area were amazing, the house itself lovely, clean and spacious. We were all pleasantly surprised by the comfort and desirability of the house, we wish we had stayed longer so that we could have spent a day or two just chilling. As it was we only used it as a base for long day trips around Scotland's countryside (pretty awesome and unique) which was a shame. Would defiantly stay again. Be prepared for sheep lining the roadside and intermittent photo pit stops on your way in and out of the place." April 2017
"Beautiful house in a majestic location! Lots of wildlife and amazing views. Great place for a get away. Just make sure to get there before dark- as it's hard to find at night- and you may want to stock up on some food before getting there since there isn't much nearby. We would love to come back some day!" April 2017
"Beautiful, quiet, peaceful, perfect getaway to the Highlands. The neighbors (2 highland cows) are very cute as well!This was the most beautiful, peaceful home I've ever been in. We absolutely did not want to leave." April 2017
"An amazing house, cozy and nicely decorated with everything needed to make ourselves at home. The kitchen is amazing! We were three couples and one child and there was plenty of space for all of us. The location is incredible, totally immersed in the nature! We went on a couple of nice walks nearby. We highly recommend it and hope to be able to stay there again soon!" May 2017
"A spacious, luxurious & well equipped house. Immaculately clean. Amazing scenery & location. A beautiful, well equipped house. Thank you" May 2017
"Un mot: SUPERBE
Nous avons passé de très très bon moments chez vous. Avons regretté de n'avoir pas assez de temps pour se ressourcer J'espère que cette maison ne vieillira pas trop vite Réservez me nous pour l'année prochaine C'était SUPERBE comme votre pays où du moins le peu que nous avons vu A bientôt peut-être Cordialement Les 4 Alsaciens convaincus. Location feedback: Bien au calme loin de tout et proche du paradis!" May 2017
"The beautiful cottage and scenic location exceeded all our expectations. Spacious, clean, and quiet. The wi-fi was rubbish but if you are looking for a getaway spot in the highlands, this is a good thing!
Thanks so much, Christina! The house and location exceeded all our expectations!" May 2017
"Geweldig huis in een prachtige omgeving, ruim, schoon en heel comfortabel. Geweldig huis, van alle gemakken voorzien, 3 badkamers ! Helemaal top" May 2017
"The place was absolutely wonderful! We only stayed 2 nights and wish we stayed longer!! The place is very clean, spacious, gorgeous views, lots of books you can read on the confortable couches, etc. I would recommend staying several nights here since it has all the necessities. Christina was great and answered very quickly.
"Thanks for eveything Christina. The place is absolutely wonderful!! The only recommendation I have would be to write in the visitors' book that the water is good despite its color. Location feedback: It's a little far from the towns near by (about 30 mins), but if you want to stay in the house and it's suroundings it's perfect!" June 2017
"The cottage and setting was one of the best places we have had the pleasure of staying in. The cottage itself was immaculate, with plenty of space and as for the kitchen, we wish it was ours! All rooms were large with very comfy beds, clean towels etc. There's even a drying room for our walking kit. The view and location were breathtaking. There's a short ferry ride (Which adds to the experience) and then you are secluded and have complete privacy. We used the cottage as we climbed Ben Nevis, and I don't think we could have done it without such a superb stay. Absolutely superb stay, thank you. The cottage was immaculate and the location was truly stunning." June 2017
"Amazing house. It was cosy, very clean, beautifuly furnished and it felt just great to stay there with my friends. We really regreted we could not stay there for longer! Everything was guest friendly and smart - the drying room, the fireplace, the kitchen - even the dog towel! I strongly recommend this place for a group of friends or a family - sitting at the big wooden table in the kitchen or on the comfortable sofas besides the fireplace with the view over hills and loch is just perfect :-)
Hi Christina! Thank you for renting us you amazing house. It was cosy, very clean, beautifuly furnished and it felt just great to stay there with our friends. We really regreted we could not stay there for longer! We also admired how everything was well thought through - the drying room, the fireplace, the kitchen - even the dog towel! Your home was a great example of hospitality - thank you for that once again :-) Best regards Natalia" June 2017
"This house is absolutely faultless. Very comfortable great views and good to relax in. The local pub was reasonably close and provided great food and friendly service. Christina is a excellent host. Our thanks to Sandra for stopping in and making sure we were OK. The place was fantastic. Would love to have stayed longer." June 2017