Holiday Cottages in Gorgeous Countryside
Please note: Our cottages are not available for booking through the month of November, due to the new lockdown measures in England. If you are not travelling from England, and think you are eligible to stay in any of our Scottish properties, please contact us directly and enquire.
Many thanks for your understanding, keep safe and well, and we hope to be able to welcome you back to Country Cottage Holiday soon.

Our beautiful self-catering holiday cottages are waiting for you - ideal for family breaks, romantic getaways, holidays with friends, or just you and the dog ..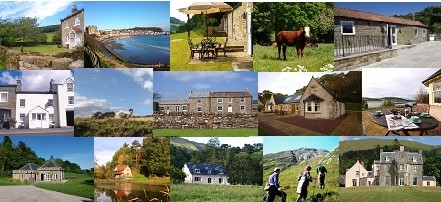 ---
Country Cottage Holiday has been providing outstanding self-catering accommodation since 2006. Our cottages are lovingly renovated historic buildings that have been traditionally finished, beautifully furnished and fully equipped to provide real luxury and comfort. Our portfolio currently offers twelve self-catering cottages, most are located in secluded, rural areas of stunning natural beauty: near Scarborough in North Yorkshire; near Barnard Castle in County Durham; near Inverness and near Fort William in Scotland; and one in Sedbergh, on the edge of the Dales and the Lakes in Cumbria - special cottages in very special locations - perfect for a romantic cosy retreat, an active family holiday, or just a peaceful break away from it all. Revel in the great outdoors; delve into local history and culture; explore medieval sites, historic cities and market towns; venture out for a gentle ramble with your dog, climb a mountain, picnic with friends and family, hike across moors and forestry; take the children fishing, cycling; stroll along the beach, or simply stock up on lovely food and drink and relax in the luxury of your 'home-from-home' cottage with fully-equipped kitchens, spacious living areas, and uninterrupted views across gorgeous countryside ... What more could one wish for in a holiday?
Our cottages sleep from 3 up to 8 guests, and most are dog friendly too. Our lovely guests come back year after year and you can read what they say about us here. Our competitive rates include all utilities, luxury bed linen and towels, and WiFi.
Weekly bookings can be made directly through our website (Saturday - Saturday), but we are very flexible and happy to accommodate other periods and short breaks too, so please contact us - we are available from 9:00 - 17:00 Monday - Friday on +44 (0)1723 373461, or email This email address is being protected from spambots. You need JavaScript enabled to view it.
You can read our latest news or look for local information and recommendations: Attractions near Granary and Manor House Farm Cottages, Attractions near Thwaite Cottages, Attractions near Rosehaugh and Bay Farm Cottages.
Please note: Extenuating circumstances policy in the context of Covid-19: In the case of a lock-down, where government rules prevent you travelling to stay in our holiday cottage and/or disallows Country Cottage Holiday from having you to stay in our holiday cottages, Country Cottage Holiday will change your booking to another date. Please make sure your travel insurance covers cancellations in any other situation. For Covid-19 updates: www.gov.uk/coronavirus (England) and https://www.gov.scot/coronavirus-covid-19/ (Scotland)
Country Cottage Holiday