ROEBUCK COTTAGE reviews 2021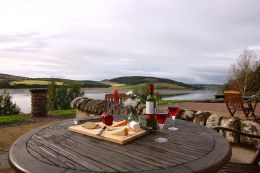 "Roebuck cottage was simply a home from home. It was clean, spacious and literally had everything we needed for a family of 5 and a dog. The view is to die for. We would loved to stay again next time we visit Scotland. Thanks Christina "
K. - Roebuck Cottage, Bay Farm, near Inverness - December 2021 (Airbnb)
"The cottage was spacious, and cosy. The cottage is in an area that makes you feel at one with nature. Everyone was so helpful, everyone should be able to stay at a place like Roebuck, it has great healing properties, we feel rejuvenated and mended."
L.S. - Roebuck Cottage, Bay Farm, near Inverness - November 2021
"We have been here several times and every time we arrive we are again astonished about the location. The most beautiful spot on earth. The cottage feels as home, and the service is perfect."
S.B. - Roebuck Cottage, Bay Farm, near Inverness - October 2021
"We have had a lovely relaxing break at Roebuck Cottage as usual and enjoyed everything very much. Our one concern, now that we have an electric vehicle (EV) was, we had to plan days out very carefully. There are no public Charge Points (CP)within the Black Isle. Those shown on www.zapmap.com are at certain Hotels and for use by their own residents only, or in some cases by "Tesla" vehicle models only. We chose to plan our routes around the C P at Dingwall 10 miles from the cottage. We are very familiar with the area. A typical outing to Strathconon would be 10 miles to Dingwall (CP) + mileage to destination + return mileage to (CP) +10 miles to cottage ensuring enough power remains to begin again next day. The point being, that you would be unlikely to find a suitable CP in a remote glen. All this very unlike driving in the central belt of Scotland. This said, it worked for us. We found the Dingwall CP to be in good working order, not always the case with charge points, and also, we were lucky not having to queue. We were able to go for a walk, shop or have coffee or a meal while the car was charging. The good points were that our fuel costs were much lower and we helped the climate. Next time there may be more charge points available. I hope these observations are helpful to other EV drivers and that they enjoy their holiday in the Highlands."
C.S. - Roebuck Cottage, Bay Farm, near Inverness - October 2021
"Been coming to this cottage for the last 8 years, cant see us changing yet"
J.D. - Roebuck Cottage, Bay Farm, near Inverness - July 2021
"Great location, amazing view across the bay, just up from the beach with the sounds of the seals and the sea birds reaching up to you as you eat outside on the patio area. Pine martens, deer and red squirrels in the woods around the cottage and only a few miles away from Inverness and little coastal villages. The inside of the cottage is very large and has everything you need in it. Highly recommend it!"
P. - Roebuck Cottage, Bay Farm, near Inverness - July 2021 (Airbnb)
"Roebuck (and Swallow) are beautifully located with super views across a small sea loch and excellent sunsets. Large and small birds pass overhead regularly, many birds arrive to feed on the loch edges outside summer, whilst Harbour Seals haul out on the sandbanks over summer with their pups. There are many pleasant walks from the door and within a short drive. Local amenities are of good quality and there are many small sites of interest in the local area. Roebuck is very comfortable, well thought out in terms of equipment and always spotless upon arrival. Any requests for additional items are met with prompt resolutions as are concerns about technical problems."
G.T. - Roebuck Cottage, Bay Farm, near Inverness - June 2021
"As always, the location is what takes us back time and time again. True peace and quiet and within easy reach of the Highlands both east and west. Love it!"
S.M. - Roebuck Cottage, Bay Farm, near Inverness - May 2021