One of the most beautiful places in Scotland! Perfect!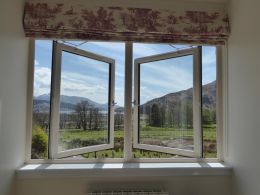 "My family has just returned from a glorious week staying in Tigh Beag on the Conaglen estate. We have had the most magical time! Our group consisted of four adults and four children. The house was perfect, very comfortable and well equipped. We ventured to Loch Ness, Anarch Mor mountain range as well as Fort William. The ferry crossing to and from the house proved very popular with the children! The housekeeper was most welcoming and provided details of places to eat and ferry times. We ate at the ardgour inn one night which was very quaint, definitely worth a visit. We can not wait to go back! One of the most beautiful places in Scotland!"
"As part of a family group booking we have enjoyed a perfect week. Everything about the accommodation, the people we met on the estate & the surrounding area attractions could not be improved. Definitely a place I will return to & I don't usually like to make return visits. Relaxing, peaceful, perfect ! Thank you."
B.H. & K.H. - Tigh Beag, Conaglen Estate, near Fort William, Ardgour - February 2018