BOATHOUSE guest reviews 2022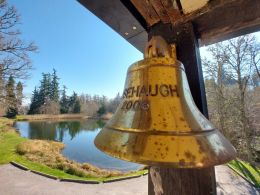 "Another fantastic fortnight in this lovely 'cottage', located in a really beautiful and peaceful location. Already looking forward to the next time."
D. K, United Kingdom - July 2022
"The accommodation and location where just amazing! It was so perfect. We loved our stay ."
L. B, United Kingdom - July 2022
"We stayed here for our honeymoon last year so it was special to return for our first anniversary. We love the seclusion and the large private grounds that the dogs could run around in. I think they remembered it from last year too!! It is lovely to wake up to the sound of the stream and the sight of the lochan. We enjoyed a very lazy holiday, walking the dogs in the large grounds of the estate. Everyone we met was very friendly. The house is very clean and wants for nothing. The men who came to take away the bin for emptying asked if we'd had any problems with wasps. We hadn't then, but a couple of days later we did. I phoned the housekeeper then we went for a walk. The nest had been dealt with by the time we returned. Brilliant. We came across the men again when they were cutting the grass, and again when we were walking. They were very friendly and obviously hard working."
M.C, United Kingdom - June 2022
"The cottage and the location are beautiful and calm. Your support during the pandemic was great and we are glad that we could finally stay in the cottage and had a fantastic time. Thanks a lot."
J. T, Germany - June 2022
"We have stayed at this property on numerous occasions and it never ceases to impress. Easy access to local facilities and areas, but well off beaten track to enjoy a relaxing and tranquil stay in a beautiful location."
C. S, United Kingdom - March 2022